Check Your Deck® During Deck Safety Month® in May
Your deck is the perfect place to enjoy warm weather with friends and loved ones. However, a poorly maintained or unsafe deck could possibly collapse, causing serious injuries to you and your guests. During Deck Safety Month® in May, Decks by Kiefer recommends that homeowners check their decks before starting to plan family activities.

"Our number one priority and message to local residents is to ensure that their decks are safe for use," says Bob Kiefer, Owner of Decks by Kiefer, and a member of the North American Deck and Railing Association (NADRA). "Outdoor structures like decks are exposed to sun, rain, snow and extreme temperature changes over the years. The need to maintain and inspect them is critical for keeping decks strong and safe."
Decks by Kiefer supports the work of NADRA, which has created campaigns and educational programs, along with certifications for home inspectors, deck builders, remodelers, builders, code officials, engineers, architects, distributors, lumberyards and manufacturers to improve proper installation practices. The organization has also developed checklists and safety awareness information for consumers to assure they have details available to them to evaluate their decks. The information can be found at http://bit.ly/NADRADeckSafetyCampaign.
"There are an estimated 40 million residential and 10 million commercial decks in the United States, with 50% of them that are more than 20-30 years old," says Kiefer.  "For the safety of everyone, it's important for homeowners to check their decks on a yearly basis."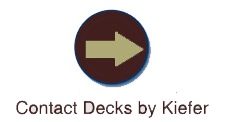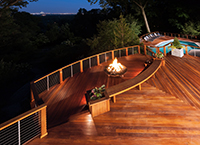 Bob Kiefer's deck designs have garnered both state and national recognition, and his work is featured in leading publications distributed throughout the country.
Design and quality workmanship are of paramount importance to Bob in all of the projects he undertakes. He is actively involved in the execution of each one, from concept to completion.