Decks by Kiefer was established in 1975 by Bob Kiefer, a superb craftsman whose roots in the field of landscape architecture enable him to approach his custom deck and carpentry projects from a unique design perspective.
His extensive portfolio of decks with built-in benches, deck and patio combos, bi-level decks, raised decks, privacy walls, and even decks with hot tubs and cooking areas, are each designed to integrate seamlessly into the natural surroundings of any home.
(photo) Outdoor Kitchen below raised Deck. Design and Construction by Decks by Kiefer, Martinsville, NJ USA. (Frank Gensheimer Photography) www.decksbykiefer...
Bob uses materials such as cedar, teak, redwood, ipe and other fine woods to construct his decks. From concept to completion, Bob is personally involved in every aspect of each project Decks by Kiefer undertakes.
Decks by Kiefer also specializes in custom cabinetry work, porches, pergolas, outdoor kitchens, and fencing.
Our decks are available in:
• Cedar
• Teak
• Redwood
• Ipe and other fine woods
• Composites
We Specialize In:
• Porches
• Fencing
• Pergolas
• Custom Decks
• Outdoor Kitchens         
• Custom Cabinetry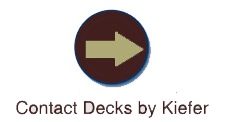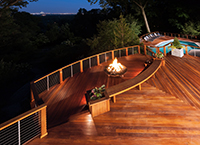 Bob Kiefer's deck designs have garnered both state and national recognition, and his work is featured in leading publications distributed throughout the country.
Design and quality workmanship are of paramount importance to Bob in all of the projects he undertakes. He is actively involved in the execution of each one, from concept to completion.
Houzz